Family Promise is the faith community's unique response to homeless families. It is a network of area congregations who open their doors to families in need. Families receive hospitality at each congregation for a week at a time. Family Promise provides immediate but temporary shelter, meals, and support services to homeless families, with the goal of helping them re-attain long-term self sufficiency. This is one of UUFBR's major Social Justice projects.
The families make each congregation their home for a week. A classroom becomes a private sleeping room, dinner is waiting when they come back from school or work or looking for work. Breakfast is provided before they leave in the morning.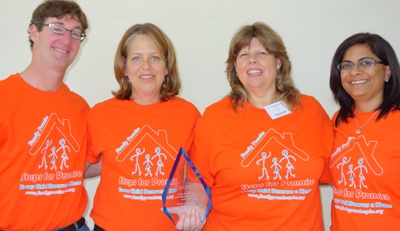 Turning our building into a gracious home for a week takes many hands. On the Sunday that familes are due to arrive, members of our Sunday School set up the bedrooms. A week later turn those bedrooms back into classrooms. Adults (and even whole families) volunteer to provide dinner, help serve and clean up dinner, entertain the children, and stay over night. Before the families arrive, there is shopping to do. And after they leave, there is always a batch of laundry to deal with. Add it up and there are 37 volunteer slots, 37 opportunities to make a difference. And all of these can be counted as community service hours for those who need them.
Each August we establish four or five hosting weeks for the coming year. Check the calendar to see the specific hosting dates.
Come be part of a good thing! Sign up in Osais Hall on Sundays, call the office, or use this contact email: familypromise@uufbr.org