Path and Promises Of Membership
At UUFBR we understand that the path to membership is special and unique for each individual. For some of us it involved nothing more than attending a couple of Sunday services to know we had found our spiritual home; for others it has taken significantly longer. There are still others who support the fellowship with their time, talent, and treasure but, for varied reasons, never become official members.
The act of becoming a member is simple: All that is required is signing the Membership Book. But this simple act has significant implications.
When you sign the Membership Book:
You are joining a community that is individually and collectively searching for truth.
You are joining a congregation striving for justice.
You are willing to join with folks who strive to live with integrity – in loving relationship with each other.
You are committing to supporting the Unitarian Universalist Fellowship of Boca Raton with your time, talent and treasure.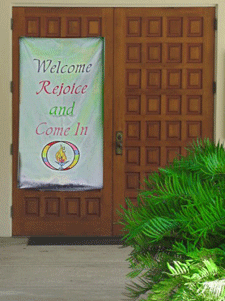 How can I get involved at UUFBR?
There is always a lot going on at UUFBR – offering many opportunities to connect with like-minded people both socially and working side-by-side. Learn about the social events, programs and community outreach opportunities that can help you get connected. You will learn about upcoming events and have a chance to sign up to volunteer
Path to Membership
A Q & A session about UUFBR and learn about the privileges and responsibilities of membership.
Check the calendar or the Upcoming Classes for dates and times of upcoming classes.
We encourage you to attend one of these classes before you decide to become a member.
When you feel ready to become a member of our fellowship, speak to the minister, a board member or someone from the Membership Team who will make arrangements for you to sign the Membership Book.
Once you become a member, you will be invited to attend a New Member Sunday, where you will be welcomed into the congregation during the service and honored at a luncheon immediately afterwards.
If you have any questions regarding membership, feel free to contact: membership@uufbr.org
Promises of Membership
Membership Confers Rights and Privileges
Because we are congregational in polity, significant decisions are made by the congregation as a whole. Your vote is one way to shape the character and the future of this community.
Only Members may stand for election to positions on the Board, the Endowment Committee and the Nominating Committee.
a bi-monthly magazine published by The Unitarian Universalist Association.
You will receive Life Cycle Celebrations at no cost (e.g., Baby Namings, Weddings, Memorial Services).
Membership Involves Obligations
Make it a habit to show up! Worship, programs, pot-lucks will not be the same without you.
Like what you find at UUFBR? Join in and help make it happen. Wish there were something else offered? At The Fellowship, the biggest hurdle to starting something new – a program, a group – is the calendar! Come into the office and we'll help you get it going. UUFBR is an active congregation with a very small staff. That's only possible because of the time and talents of our members.
Although our theologies are diverse, our aim is not. The covenant which binds us is to offer each other the support and encouragement to live with integrity, even when that means living out questions. Take part in classes and groups and share your journey. Teach, sing, lead worship, volunteer in any of our Social Justice projects. Take what you practice outside the walls, bringing your expression of tolerance, respect and understanding to the world.
Members support the Fellowship financially. A good 77% of our Annual Budget comes from pledges. (The rest is from building use and fundraisers.) Some of us pledge generously, knowing that there are those who cannot. We ask members to consider giving between 2% and 5% of their adjusted gross income.