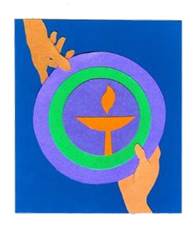 In December 2006, we began sharing our Sunday Collection Plate with the wider community in a Share-The-Plate program. This program was widely embraced by the Congregation (and visitors), as evidenced by the doubling of plate contributions. Half of each collection helps to pay the bills at UUFBR, and the other half goes to the Share-the-Plate Fund. When the Fund reaches $1000, that $1000 is given to the selected organization.
The Share-The-Plate program also raises awareness of volunteer work done by so many of our members who suggest these worthy organizations. Over these several years, UUFBR has given thousands of dollars to groups working outside our walls!
All recipients of this program are non-profits suggested by UUFBR members; often these are active participants with the particular organization.
As a UUFBR member, if you would like to suggest an organization to be a recipient of Share-The-Plate contributions, please click on the following link for a PDF form that can be printed, completed, and returned to any Community Service Team member or the UUFBR office – admin@uufbr.org (561) 482-2001: