On March 2, 2013, the UUFBR Endowment Fund sponsored a workshop to bring together members of the scientific-technical, faith-based, government, and activist communities to exchange information and work together to:
Coordinate citizen support for the Southeast Florida Regional Climate Action Plan
Get public support for climate action policies
Develop effective communication about climate policy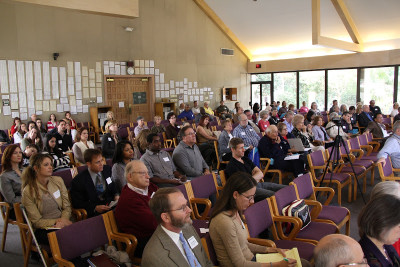 The Sanctuary was filled to capacity, as leaders from South Florida municipalities, scientists, groups of citizen advocates, members of the faith community, and environmental advocates met to learn about a regional plan to protect Southeast Florida's infrastructure, natural habitat, and personal property from the effects of sea level rise and climate change.
Regional and national experts from the South Florida Water Management District, Palm Beach County's Department of Environmental Management, The City of Ft. Lauderdale, and county governments in Broward and Miami Dade explained the connection between global climate change, coastal erosion, inland flooding, threats to our turtle population, and challenges to our infrastructure, such as the recent washout of a section of A1A and inland flooding during rainfall and storm events caused by the inability of our aging canal gates to function as sea level rises.
After learning about the Southeast Florida Regional Climate Action Plan's comprehensive framework to protect the region, leaders discussed ways they could best support the plan. Global trends in sea level rise, and the challenges it poses, were addressed by John Englander, author of High Tide on Main Street.
A Youth Speakers Bureau of high school students from Palm Beach and Broward Counties was trained to speak to the public about the Southeast Florida Regional Climate Action Plan, and Girl Scouts participated in a curriculum to receive the Earth Matters Patch.
The Climate Action Coalition of South Florida is the present organization working on education, outreach and advocacy in support of the Regional Climate Action Plan. Many of the members of this coalition met at the Partnering Workshop.